Low stock
Regular price
Sale price
£92.65 GBP
Unit price
per
Sale
Sold out
The Duet 3 Mini 5+ balances value and performance, focused on small and medium-size machines that do not need the high power output of the Duet 3 Mainboard 6HC. It provides 5 onboard drivers and the normal complement of heaters, fans, IO, LCD, etc. There are WiFi and Ethernet variants, with the option of using an SBC (Single Board Computer, e.g. Raspberry Pi) for control in the same manner as other Duet 3 mainboards. The overall aim with the Duet 3 series is to allow for maximum flexibility of machine design through highly capable main boards, expansion boards, smart tool boards, and custom expansion modules. The flexibility of configuration and advanced features are enabled by our innovative RepRapFirmware 3 running on the Duet 3 Mainboard and our customised DuetSoftwareFramework running on a single board computer.
Powerful 32 Bit Processor (ARM Cortex M4 @120Mhz)

Both Wifi and Ethernet versions

Dedicated High speed bus to a single board computer (e.g. Raspberry Pi) for the user interface and plugins

5 Trinamic 2209 stepper drivers running at up to 1.4A RMS, 2A peak with firmware control of the full feature set including up to 256 microstepping, StallGuard 2 and StealthChop2

CAN-FD bus that supports the next generation of Duet3D expansion boards, smart tools and custom addons.

7 PWM outputs of varying current capacities support a high current heated bed, 2 extruders and 4 fans.

7 IO ports for endstops, probes, filament monitors and other sensors.

3 Thermistor/PT1000 inputs and support for 2 PT100 or thermocouple inputs via the optional daughterboards.
Set up your printer and update the firmware through the web interface.

All common 3D printer geometries are supported

Support for a wide range of Z probes including DC42's IR Z probe and the Duet3D Smart Effector for delta printers.
View full details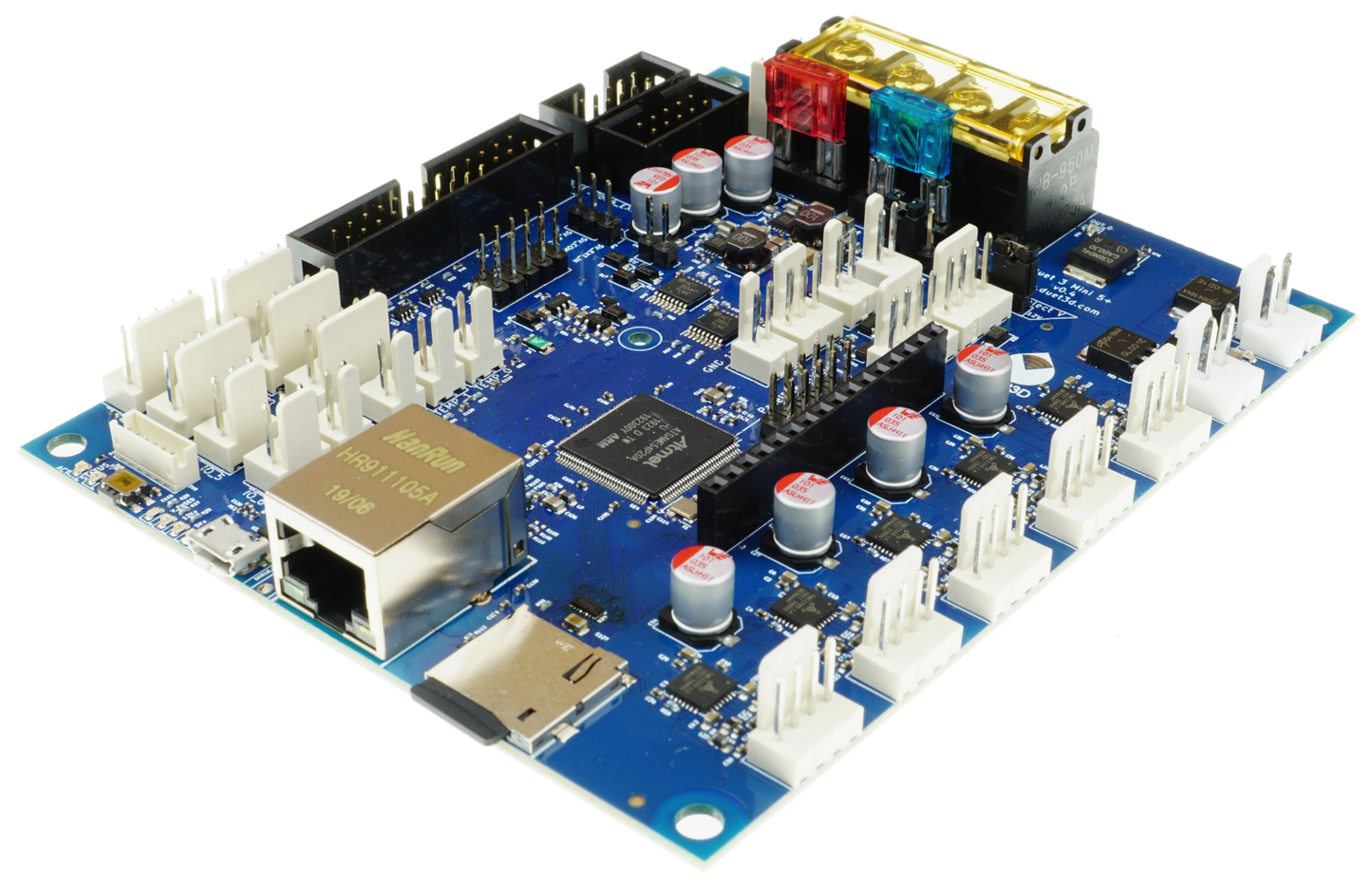 ⚠️ WARNING: This product can expose you to chemicals including Mineral Oils, which is known to the State of California to cause cancer, and Lead and Nickel, which are known to the State of California to cause cancer and birth defects or other reproductive harm.